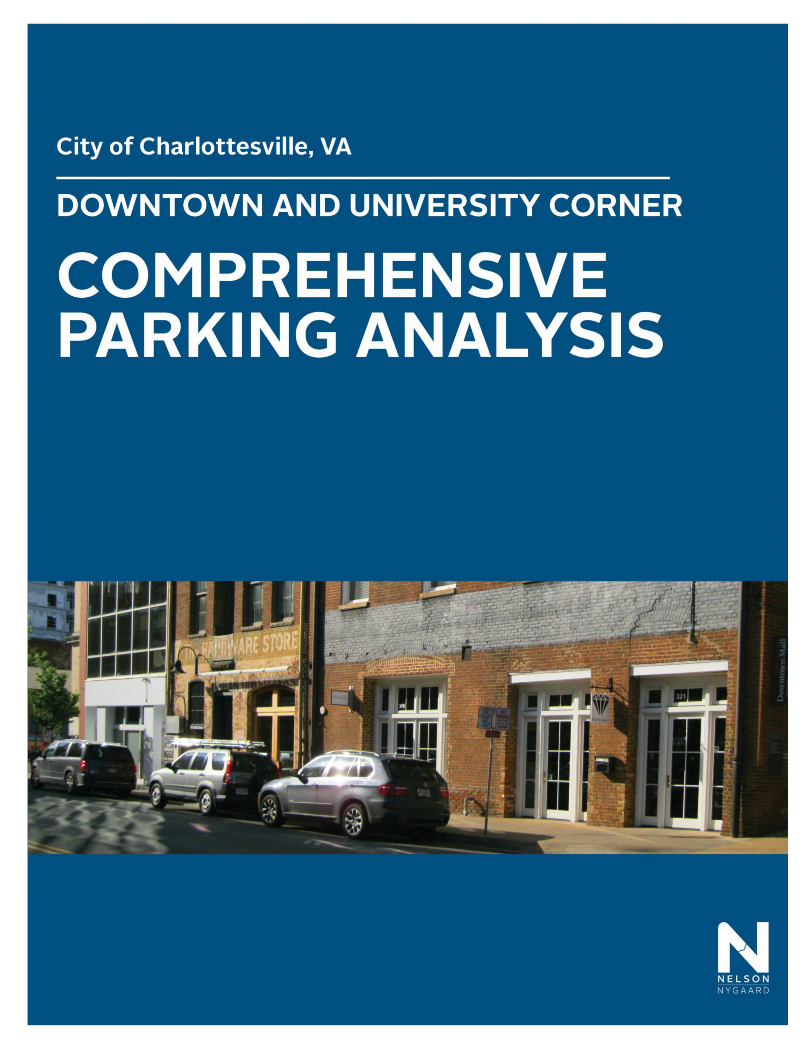 CHARLOTTESVILLE PARKING ANALYSIS - DRAFT
City of Charlottesville
Nelson\Nygaard Consulting Associates Inc. | i
CHARLOTTESVILLE PARKING ANALYSIS - DRAFT
City of Charlottesville
TABLE OF CONTENTS
Page
Summary of Needs and Recommendations 6
University Corner On-street Parking Inventory 18
On-Street Parking Restriction Glossary 19
Off-Street Parking Utilization 24
General Public Parking Survey 48
Business Owner Parking Survey 55
PARKING and TDM RECOMMENDATIONS 60
Offer Viable and Attractive Commute and access Alternatives 68
Maintain (and monitor) Current Parking Supply 70
Special Project Area Recommendations 71
TABLE OF FIGURES
Page
Figure 1 Downtown Study Area 10
Figure 2 University Corner Study Area 11
Figure 3 Total Parking Inventory – Downtown Study Area 13
Figure 4 Public Parking Inventory – Downtown Study Area 14
Figure 5 Downtown Study Area Parking Inventory 16
Figure 6 Downtown On-Street Parking Overview 17
Figure 7 On-Street Parking Inventory – University Study Area 18
Figure 8 University Corner Study Area Parking Inventory 18
Figure 9 Downtown Parking Demand 9 AM 22
Figure 10 Downtown Parking Demand 1 PM 22
Figure 11 Downtown Parking Demand 6 PM 22
Figure 12 University Parking Demand 9 AM 23
Figure 13 University Parking Demand 1 PM 23
Figure 14 University Parking Demand 6 PM 23
Figure 15 Market Street Garage 24
Figure 16 Water Street Parking Garage 25
Figure 17 Downtown Cultural Zone Weekday Utilization Table 28
Figure 18 Downtown Cultural Zone Weekday Turnover Table 28
Figure 19 Downtown Cultural Zone Saturday Utilization Table 30
Figure 20 Downtown Cultural Zone Saturday Turnover Table 30
Figure 21 Downtown Government Zone Weekday Utilization Table 32
Figure 22 Downtown Government Zone Weekday Turnover Table 32
Figure 23 Downtown Government Zone Saturday Utilization Table 33
Figure 24 Downtown Government Zone Saturday Turnover Table 34
Figure 25 Downtown Market Zone Weekday Utilization Table 35
Figure 26 Downtown Market Zone Weekday Turnover Table 36
Figure 27 Downtown Market Zone Saturday Utilization Table 37
Figure 28 Downtown Market Zone Saturday Turnover Table 37
Figure 29 Downtown Southeast Zone Weekday Utilization Table 39
Figure 30 Downtown Southeast Zone Weekday Turnover Table 40
Figure 31 Downtown Southeast Zone Saturday Utilization Table 41
Figure 32 Downtown Southeast Zone Saturday Turnover Table 41
Figure 33 University Zone Weekday Utilization Table 43
Figure 34 University Zone Weekday Turnover Table 43
Figure 35 University Zone Saturday Utilization Table 44
Figure 36 University Zone Saturday Turnover Table 45
Figure 37 Parking Violation January - March 2015 45
Figure 38 Downtown Parking Violations by Zone (January to March 2015) 46
Figure 39 University Corner Parking Violations (January to March 2015) 47
Figure 40 Home Zip Code of Survey Respondents 49
Figure 41 General Public Length of Time to Find Parking 50
Figure 42 General Public Maximum Willingness to Pay 51
Figure 43 Home Zip Code of Downtown Employees Surveyed 52
Figure 44 Workforce Commute Mode Share 53
Figure 45 Survey Response by Type of Business 55
Figure 46 Busy or Very Busy Downtown Business Hours 56
Figure 47 Employer Suggestions to Improve Employee Parking 57
Figure 48 Employer Perceptions of Customer Parking Concerns 58
Figure 49 Critical Parking Factors for Customers 59
Figure 50 Average Downtown Parking Duration 62
Figure 51 Average University Corner Parking Duration 63
Figure 52 Average Daily Utilization Rates of Parking Regulations 64
Figure 53 SFPark Mobile App 65
Figure 54 Zone Definition (2008 Report) 66
Figure 55 Courthouse Parking Profile 71

The City of Charlottesville completed a Downtown Parking Study in 2008, which examined the adequacy of parking availability, the existing designation and allocation of parking spaces, and strategies for parking management. The study made four broad recommendations:

A comprehensive parking inventory of all on-street spaces was performed for the Downtown and University Corner study areas. In the downtown, municipal garages and all off-street surface lots containing 20 or more parking spaces (public and private) were also inventoried.
Allowing for variation due to temporary construction activities, there are approximately 4,280 parking spaces accessible to the public in the Downtown study area. This number differs significantly from the 6,000 reported in the 2008 study as it does not include the over 1,700 parking spaces located in private parking structures inaccessible to the public. For example, the garages at Merkle | RKG at 701 Water Street East and indoor/underground parking for the ACAC Fitness & Wellness Center located at 455 2nd Street SE were not included. The Omni Hotel at 212 Ridge McIntire Road has about 400 parking spaces in a large private garage. While the garage is primarily for guests, the hotel has monthly passes available for $125/month and hourly parking for $2/hour when there is space available. There are approximately 90 people with monthly parking permits.
Of the total parking spaces inventoried, 2,933 (69%) are publicly controlled – 1,001 on-street and 1,932 in off-street facilities. Another 1,347 (31%) parking spaces accessible to the public are in private off-street lots (Figure 3).
Figure 3 Total Parking Inventory – Downtown Study Area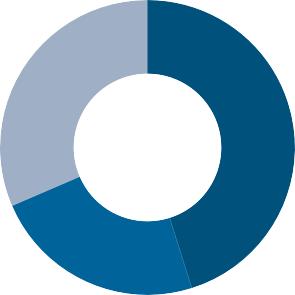 1,347
Private Surface Lot Spaces
1,932
Public Off-Street Spaces
4,280
Total Spaces
1,001
Public On-Street Spaces
Of the 1,347 private surface lot parking spaces, some parcels currently available as parking are proposed for future development. These include 63 parking spaces located in a gravel parking lot at First Street South and Garrett Street. At 201 Monticello Avenue, a former church building provides 50 parking spaces until construction begins for its approved redevelopment. Finally, the block bounded by Water Street, 1st Street, South Street and 2nd Street SW may be developed in the future. The property currently accommodates 105 public spaces and 23 private. These planned redevelopments result in an anticipated reduction of parking supply by roughly 220 spaces (about 5 percent).
Public Parking Inventory
On-Street
Of the 1,001 on-street parking spaces in the Downtown study area, 447 are reserved for short- term parking restricted by time limits (45 percent of the on-street supply). There are 396 unrestricted spaces (40 percent), allowing for all-day parking. Finally, 127 spaces (13 percent) are designated for special uses such as loading zones, handicapped spaces, and permit holders, including 31 reserved for government staff (Figure 4). All on-street parking in the City of Charlottesville is currently unpaid.

Off-Street
Of the off-street public parking inventory, all of which is paid parking, the two municipal parking structures account for 77
percent of supply (1,492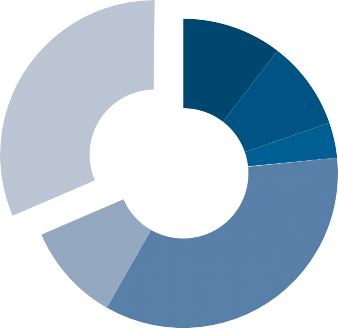 Figure 4 Public Parking Inventory – Downtown Study Area
Time Restricted On-Street Spaces
spaces). The Market Street garage has 473 spaces and the Water Street garage has
Private
Surface Lots
15% Unrestricted
On-Street
Spaces 14%
1,019. Parking garages operate daily from 6 a.m. to midnight with extended hours (to 1 a.m.) on weekends. Sunday hours are noon to 10 p.m.
The cost to park at the
Public Paid Off-Street
2,933
Public Spaces
Public Parking
On-Street Special Uses 5%
Market Street garage is $1.25 for the first half hour and
$2.50 for any hour thereafter with a daily maximum of
$20.00. The Water Street garage is $2.00 per hour, or
Lots
15%
Structures 51%
any portion thereof, with a daily maximum fee of $16.00.
Pre-paid monthly permit parking is $135 at the Market Street garage and $120 at the Water Street garage. The Market Street garage has 381 monthly parking permits and 87 people currently on a waiting list. As of July, 2015, the Water Street garage has 900 monthly contracts in place and an additional 106 spaces leased by a private 3rd party company. Monthly permits no longer remain available for the Water Street garage and a waiting list has been instituted.
The garages offer a parking validation program for area businesses. Roughly 150 downtown businesses participate in the validation program providing one or two hours of free parking to their customers. Businesses pay a discounted fee to the Charlottesville Parking Center, the operator of the garages, to provide patrons or visitors validated parking.
The remaining 23 percent of off-street publicly available parking supply (344 weekday daytime spaces, 440 nights and weekends) is located in surface lots at 100 East Market Street, 100 Water Street East, and 100 South Street West (Figure 5). The Citizens Commonwealth Center at 300 Preston Avenue contributes 96 spaces to the public supply outside of regular business hours.
Effects of Development/Projects on Off-Street Supply
Three foreseen projects will have an effect on the overall downtown parking supply. The Levy Lot, located on Market Street between 7th and 8th Streets NE is slated for redevelopment by the housing authority. This lot is currently used for city employee parking and provides 63 private off-street spaces (permit required, no daily sale of parking to the public) in the Government Zone.
A reconstruction of the Belmont Bridge carrying 9th Street SE over the railroad will remove approximately 50 unregulated parking spaces beneath one of its spans. This lot was outside of the study boundaries and not included in the off-street inventory of this study, however it is important to note the pending loss of these spaces.
Finally, the Market Plaza proposal will replace and redevelop the existing parking lot at Water and First Streets. After a three year disruption, 102 of the existing 105 public parking spaces will be restored. The City Market will continue to operate on Saturday mornings in the only remaining publicly available surface lot in the Market Zone until the development is completed.
CHARLOTTESVILLE PARKING ANALYSIS - DRAFT
City of Charlottesville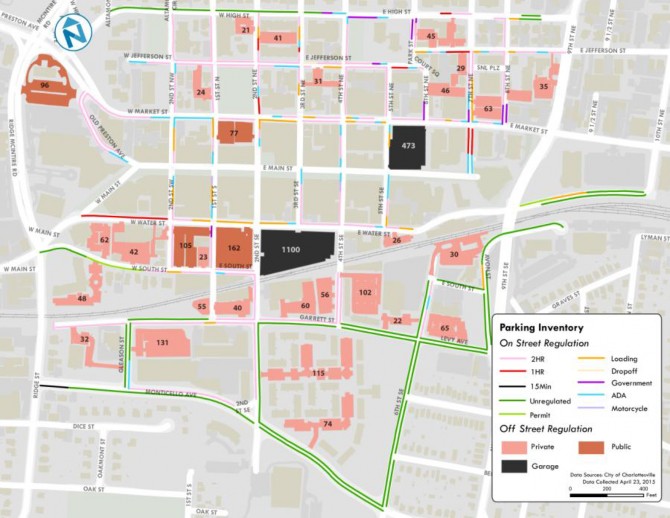 Figure 5 Downtown Study Area Parking Inventory
Nelson\Nygaard Consulting Associates Inc. | 16
CHARLOTTESVILLE PARKING ANALYSIS - DRAFT
City of Charlottesville
On-Street Parking
The on-street parking supply in the Downtown study area is categorized by a number of timed regulations (two hour, one hour, 15 minutes), special uses (loading, dropoff, ADA, government, permit, motorcycle), and unrestricted spaces (See: Glossary, Pages 18-19).
The four zones of the study area have different proportions of these restrictions, owing to the nature of land use in each quarter. The Cultural Zone in the northwest is dominated by the two- hour restriction and contains the largest quantity of loading zones. The Government Zone in the northeast contains the vast majority of spaces reserved for government employees due to the presence of both City Hall and the Albemarle Circuit Court. A balance of two hour and unrestricted spaces, often in close proximity, characterizes the Market Zone in the southwest while large concentrations of unrestricted spaces (28% of the entire on-street inventory) are found in the Southeast Zone (Figure 6).
Figure 6 Downtown On-Street Parking Overview
Downtown Study Area On-Street Parking Overview

Cultural Zone

Government Zone

Market Zone

Southeast Zone

Unrestricted

27

10

82

278

2 hour

145

117

100

54

1hour

7

17

7

0

15 minutes

0

0

3

0

ADA

19

22

3

6

Loading

17

14

11

11

Government

1

28

2

0

Permit

0

0

9

4

Dropoff

3

0

0

0

Motorcycle

0

0

1

1
Note that the figures given are weekday figures determined in April 2015. Inventory may fluctuate due to temporary events or construction activity. For example, seven two-hour spaces found on Market Street between 2nd and 3rd Streets NE can be converted into a loading zone for the Paramount Theatre through the use of hinged restriction signage. These spaces are included in the time restricted parking supply.
UNIVERSITY CORNER ON-STREET PARKING INVENTORY
Again allowing for temporary variation, there are 196 on- street parking spaces in the University Corner study area.
Represented graphically in

Figure 7 On-Street Parking Inventory – University Study Area
Figures 7 and 8, roughly half of these spaces (97) are unrestricted while 57 spaces (29 percent) have some time
limit. There is a significant
ADA 2%
Loading 4%
Residential
Permit 16%
196
amount of residential permit parking in this area. Thirty- one spaces (16 percent of
curbside spaces), all found
15 Minute
6%
On-Street
Spaces
Unrestricted 49%
along Wertland Street, require a Zone 1 permit between the hours of midnight and 7 p.m., seven days per week.
Two Hour
Limit 23%
Figure 8 University Corner Study Area Parking Inventory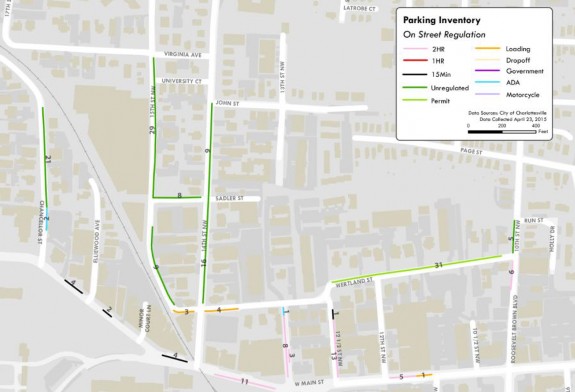 Charlottesville is recognized as a Silver Bike Community by the League of American Bicyclists and a Gold Walk Community by the Pedestrian and Bicycle Information Center. As of February 2015, the city had 13.6 miles of signed bicycle routes, 13.1 miles of bicycle lanes, 3.3 miles of shared lane markings, 9.6 miles of shared use paths, and 0.4 miles of contraflow bike lanes (located on South Street, at the western edge of the study area). U.S. Bike Route 76, an east-west bike route that runs from Nelson County through Charlottesville to Fluvanna County passes south of the Downtown Mall on Water Street.2
There are currently 26 bicycle parking facilities downtown that can accommodate a total of 160 bikes. Currently, downtown bike facilities are predominantly "staple" and bollard styles, along with two bike corrals (18 total spaces). The Market Street Parking garage offers 30 short-term bike parking spaces.
The city's Bicycle/Pedestrian Master Plan was updated in 2015 and contains specific recommendations for city policies and transportation facilities. To help identify where bicycle and pedestrian facilities are most needed, the City measured demand for walking and biking and found the Downtown Mall and the University of Virginia to be two clear areas where bicycle and pedestrian demand are highest.
The city's Bicycle/Pedestrian Master Plan recommends bicycle lanes for West Main Street, Ridge McIntire Road, and 9th Street NE, while climbing bike lanes are prioritized for East/West High Street, West Market Street, and Monticello Avenue. North of the study area shared roadways are recommended on Park Street.
Finally, the plan notes that as the City of Charlottesville reviews and revises the sections of City code that address parking, it should adopt bicycle parking standards. The new standards should address different types of bicycle parking for different needs, including long-term versus short term storage, as well as protection from the elements.
ON-STREET PARKING RESTRICTION GLOSSARY
Summary of Saturday Findings
Saturday parking demand is high, but not excessive, in this zone. Saturday mornings in the Market Zone are the only time and location that off-street parking utilization exceeds on-street parking. Demand is predictably highest closest to the city market during the morning event.
Demand tapers off midday and begins to rise again on Saturday evenings in association with the dining and entertainment uses in the zone. Parking durations are shorter on weekends, with most users averaging stays of approximately three hours.
Off-street parking on the public surface lot is high in this zone. This lot is contemplated for future development, which would both reduce the public parking supply and relocate parking to a garage facility. Existing demand, save for during the active market time, is less than supply. Private lots in the immediate zone have abundant excess capacity capable of absorbing any demand unmet in the public lots if sharing arrangements were made.
Figure 27 Downtown Market Zone Saturday Utilization Table
Utilization Rates: Downtown Market Zone

Saturday, May 2, 2015 (On-Street) – Saturday, May 16, 2015 (Off-Street)

On-Street

Off-Street

2 Hour

1 Hour

Unrestricted

All Other Restrictions

Total, All Restrictions

Public Lots

Private Lots

Capacity

99-105*

7

82

33

221-227*

105-267*

433

11 AM

88%

100%

95%

42%

84%

100%

45%

12 PM

63%

100%

85%

36%

68%

1 PM

45%

100%

70%

30%

54%

2 PM

43%

100%

65%

30%

51%

34%

21%

3 PM

54%

100%

40%

42%

49%

4 PM

52%

100%

40%

39%

48%

5 PM

70%

71%

46%

52%

59%

53%

19%

6 PM

70%

71%

46%

48%

59%

7 PM

80%

100%

88%

64%

81%

8 PM

79%

100%

88%

55%

79%

87%

15%

9 PM

65%

100%

87%

45%

71%
Figure 28 Downtown Market Zone Saturday Turnover Table
On-Street Duration and Turnover Rates: Downtown Market Zone

Saturday, May 2, 2015 11:00 AM – 10:00 PM

2 Hour

1 Hour

Unrestricted

All Other Restrictions

Total, All Restrictions

Capacity

99-105*

7

82

33

221-227*

Average duration

2.8

2.4

3.3

3.6

3.0

Average turnover

2.4

4.3

2.3

1.3

2.3

Less than 1 hour

19%

20%

11%

23%

17%

1-2 hours

41%

40%

27%

36%

35%

2-5 hours

34%

40%

52%

23%

40%

5+ hours

7%

-

10%

18%

8%
*Variable capacities reflect that certain on-street and off-street spaces were unavailable during the operation and tear- down time of the Charlottesville City Market. The market is held on a public off-street lot, completely precluding parking.
Southeast Zone
The Southeast Zone is dominated by unrestricted curbside parking. Located along the southern and southeastern edges of the downtown study area, this area constitutes 28 percent of the total on-street parking inventory in the downtown and 79 percent in this zone. The unrestricted nature leads to very low turnover conditions in the Southeast Zone. Weekday demand is steady and high but is not excessive in this zone. Despite its proximity to downtown destinations, the Water Street garage retains a large amount of excess capacity; there are always more than 375 empty spaces (Figures 29 – 30).
The weekend conditions are exactly opposite in this zone. Unrestricted spaces, especially those in low accessibility areas, go unused while the prime two-hour spaces see high utilization after restrictions have expired. The Water Street garage remains only partially occupied throughout the day on Saturdays as it is on weekdays (Figures 31 – 32).
Southeast Zone: Weekday
Between April 14 and June 8, 2015, 357 employees completed the Charlottesville Workforce Parking Survey. Of these, 93% work in Downtown Charlottesville, while 2% work in the University Corner. The vast majority of respondents (94%) typically work Monday through Friday, with only 24% of employees indicating they work on Saturdays, and 15% responding they work on Sundays. Seventy percent of survey respondents are assumed to be full time workers (working four to nine hours per day). 27% work more than nine hours. Most (85%) arrive to work between 6 a.m. and 10 a.m.
Nearly 80% of respondents work in the traditional office sectors: 72% are professional office workers, and 7% are employed by institutions (e.g. hospital, university, school, place of worship). Bar, restaurant, or other food and beverage service workers accounted for 12% of employees.
Retail sales (3%) and personal services (1%) employees are likely underrepresented among respondents.
Employees were asked for their home zip code in order to determine the distance of their commute to work. The greatest proportion of responding workers live in one of the three Charlottesville zip codes: 22902, 22903, or 22901. Forty-seven downtown employees completing the survey reported living in a zip code greater than 10 miles from Charlottesville (Figure 43).
Figure 43 Home Zip Code of Downtown Employees Surveyed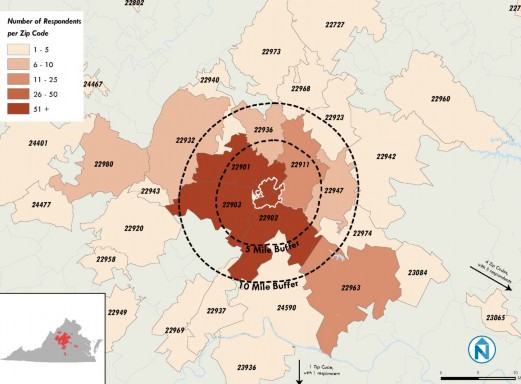 Commuting
Driving (or being driven) is the most common method for getting to work among downtown employees. Eighty-four percent of respondents drive and park downtown or in the University Corner, 10% indicate they drive but park at facilities outside of downtown or the Corner, and 6%
ride as a car passenger and are dropped off at their destination. A high proportion, 15%, indicated that they usually walk to work downtown or at University Corner. This is comparable to the rate in many larger cities including Washington, DC (Figure 44).
Figure 44 Workforce Commute Mode Share
90%
80%
70%
60%
50%
40%
30%
20%
10%
0%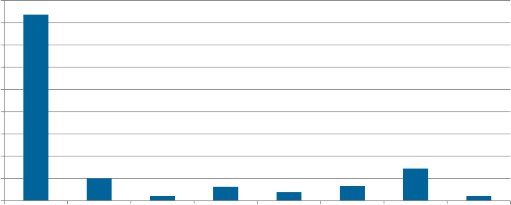 84%
10%
2%
6% 4% 7%
15%
2%
Drive; park Drive; park
Carpool
Ride in and Take transit Bicycle Walk Other
downtown or University
remotely
and park
get dropped off
When workers in downtown and University Corner drive to work and park, 58% utilize on-street parking. Nearly 30% park in a private garage or lot; 22% park in a public garage; and 12% use other facilities such as under Belmont Bridge, friends' houses, and the Omni Hotel parking garage. When employees drive to work, 36% typically pay for parking, 41% do not, and the remaining 23% pay on occasion. On average, employees paid $11.53 per day, and $67.73 per month to park (when they utilized paid parking).
Most people cited commuting efficiency as a major reason they drive to work (78%). However, the ability to intersperse additional trips before or after work (52%) was another major consideration. Additional needs influencing driving behavior included the need for a private vehicle for business/work purposes (18%) and the need to work late (21%). Only a relatively small number (17%) indicated that they drive simply because they like to; indicating that most would entertain other commuting options if they were efficient, convenient and cost-effective.
When asked what other modes would be viable for the commute to work, 31% and 28% responded that they could walk or bike, respectively. This is a substantial number and indicates that many Charlottesville workers reside a relatively modest distance from their work location. Of the 71 people who said that they would be willing to walk to work every now and then, 41 live in zip code 22902; 16 live in 22903; 9 live in 22901; 3 live in 22911. A significant proportion (40%) would consider carpooling while 22 percent consider transit a viable option, at least on occasion. About half the respondents did not indicate any commuting alternative would be viable for them.
Of the employees that selected walking as a "viable" commuting alternative, currently 71% "commonly" drive to work – generally so they have the ability to perform errands before or after work (77%). Seventy-six percent of these employees also receive pre-tax parking deductions from their employers, which likely incentivizes their choice to drive to work; however, 62% are "interested" in their employer providing a cash bonus for not driving and parking at work.
Parking
Half of survey respondents reported that employee parking is not provided at or near their workplace, while 32% had some provided and 17% had parking provided for most or all of the staff at their workplace.
Professional office employees are more likely to have access to nearby parking at their place of work (60% had parking available for some staff). Proximate parking is largely unavailable for bar, restaurant, and retail employees: 92% indicate that no parking is available at (or near) their place of work.
Only 15 percent of employees indicate that they routinely ("multiple times per week") engage in the "two-hour shuffle" while another 33% do it "once in awhile."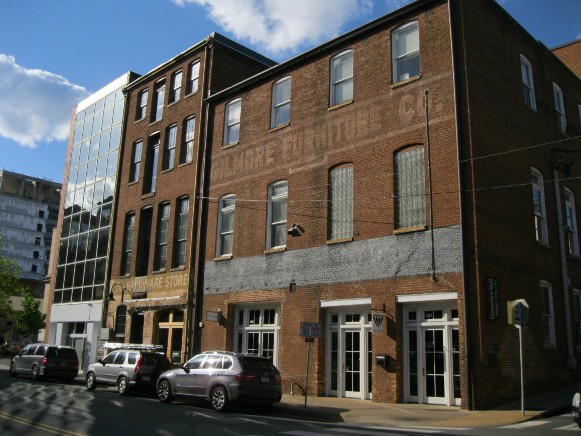 Commuter Benefits
Pre-tax parking deductions are the most common commuter benefit, received by 69% of employees; 17% are offered a free transit pass, 16% receive bicycle benefits (reimbursements for bicycle-related expenses), 12% have access to bicycle parking and/or shower and changing facilities, and 11% are offered free remote parking,
When asked which benefits they would prefer, free remote parking (50%) and a cash bonus for not using parking (44%) were the most popular. A number of other benefits were also well
received including: live-near-work home purchase or rental assistance (28% indicated an interest), pre-tax parking deduction (25%), bicycle benefits (21%), guaranteed ride home (20%), secure bicycle parking and/or shower and changing facilities (19%), and/or a free transit pass (19%). A relative minority of respondents indicated an interest in pre-tax transit deduction (9%). Although 40% of respondents indicated that carpooling was a viable commuting alternative, only 8% were interested in preferred carpool/vanpool parking as a commuting benefit.
Between April 14 and June 8, 2015, 53 business owners and institutions completed the Charlottesville Business Parking Survey. Of these respondents, 35% were from professional offices; 23% were from schools, libraries, recreation centers, or places of worship; and 19% represented retail businesses (Figure 45). Businesses who indicated "other" included an engraving shop, two hotels, a preschool, and a TV station.
Figure 45 Survey Response by Type of Business
2%
13%
4% 4%
35%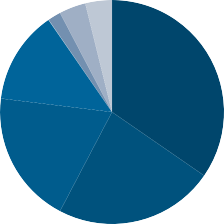 Professional office

School, library, recreation center or place of worship

Retail

Other
19%

Institutions (college, university or hospital)
Restaurants & Bars
23%

Theatres
As expected with this mix of commercial and institutional uses, 88% of the survey respondents
(46) reported being busiest and having the most people at their place of business during weekdays during the day. This was followed by weekends during the day, where 67% of the survey respondents (27) reported being busy or very busy, though evenings were also popular on weekdays (14) and weekends (14). Few indicated any amount of late night activity (Figure 46).
Figure 46 Busy or Very Busy Downtown Business Hours
100%
90%
80%
70%
60%
50%
40%
30%
20%
10%
0%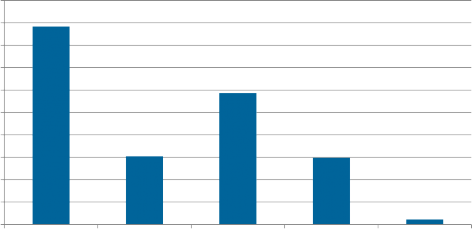 88%
Weekdays
during the day
30%
Weekday
evenings
59%
Weekends
during the day
30%
Weekend
evenings
2%
Late night /
overnight hours
Employee Parking and Transportation
The employers reported a mix of full-time, part-time, and volunteer workers at their downtown businesses. There was an average of 12 full-time employees, 7 part-time employees, and 18 volunteers or other types of workers at each place of business. Across all survey respondents, there were 410 full-time employees, 186 part-time, and 270 volunteer or other.
Employers estimated that on a typical day, 88% of their workers drove to work. This is consistent with the 84% mode share reported by employees.
The business owners and managers reported that the majority of their employees arrived for work between 7 and 10 a.m. each day. A significant number reported for work midday between 10 a.m. and 2 p.m. with a lesser share arriving after 2 p.m. The majority of employees worked 6 to 10 hours per day (89%).
Fifty-eight percent of survey respondents (19) reported providing some employee parking, and 21% (7) reported that they provide sufficient parking for all employees. Seven (21%) provide no parking at all.
For those that do provide parking, 47% provide it near, behind, or adjacent to the place of work and 47% provide it at one of the downtown public parking facilities. Three percent provide parking at remote facilities outside the downtown.
The majority of businesses rent, lease, or pay permit fees in order to provide some (6) or all (14) of employee parking. Only 13 businesses reported not paying for employee parking. Of those that pay for employee parking (17), the average cost per space per month was $73. (As reported earlier, employees reported paying slightly less at just $68 per month.)
About half of businesses reported that employees pay either the full (14) cost of parking or a portion (2) of parking costs. Seventeen businesses reported that although they pay for parking, they provide it free to employees.
When asked for recommendations to improve employee parking downtown, just under one-third of employers recommended increasing the supply of parking (Figure 47). There was a broad spread of other recommendations including free parking programs, better safety, and improved transit service. A variety of diverse recommendations were provided in the "other" category.
Of the 53 responding employers, only 9 indicated that they provide any commute benefit, aside from parking, to their employees. Three have designated preferred parking spaces for carpools. Two provide secure, sheltered bicycle parking. One offers a Guaranteed Ride Home, and one provides a free transit pass, parking cash out and a Guaranteed Ride Home.
Figure 47 Employer Suggestions to Improve Employee Parking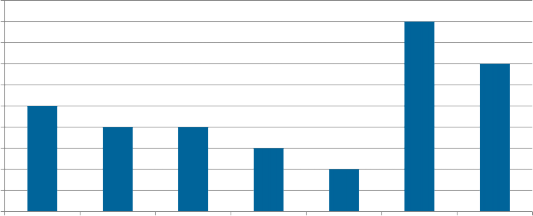 10 9
9
8 7
7
6 5
5 4 4
4 3
3 2
2
1
0
| | | | | | | |
| --- | --- | --- | --- | --- | --- | --- |
| Free or | Designated | Improve | Improve | Increase | More | Other |
| reduced cost | employee | safety | Transit | enforcement | parking | |
| parking | parking | | Service | | | |
Customer Parking
Seventeen of 53 businesses reported providing free parking with validation to customers. Thirteen businesses did not provide free parking and two provided free parking without validation. When asked how important the validation program is to their business, 13 employers said it was very important while seven said it was not important. Some employers noted:
"We cannot afford to pay for parking for visitors. The cost of parking for staff is reaching a point where we might have to cut back."
"Just recently stopped validating after 17 years of doing so. Can't afford it anymore because the business economy is terrible and we are struggling to stay alive. Also, the price of validating has gotten very high."
"I've been doing it for six months and have seen no change in revenue. As I suspected (for the last five years) I'm paying for people who have other means of getting the parking validated/paid for."
"We have the ability to validate a parking ticket from the garage, but have stopped using it on a regular basis."
When asked about customer perceptions about parking, 18 businesses reported hearing customers complain about parking and 11 felt that parking was difficult to find in Charlottesville (Figure 48). Businesses noted:
"Parking in lots is expensive. The new credit card-only lots are highly disliked."
"Realistically ticketing is a joke –people seldom get tickets and the few that people do get are cheaper than parking daily in the garage."
Several businesses commented on perceptions of crime and safety:
"As to crime on the mall, there is a perception… that the mall is a dangerous place. It might not be true but I have been told by numerous customers that they just won't come to the mall after dark."
"When our clients eat out, they invariably complain about parking and [people] on the Downtown Mall that approach them."
"Perception and reality are not the same for our customers. Some feel walking from the garage to our business is a long way, while others do not. Lots of customers complain about parking but again perception is not always reality. The one thing that is universal for all customers and employees is the lack of police presence on the mall when our events let out and employees walking to their cars. The garages would have more customers if they knew there was someone watching the garage and patrons getting to the garage and in their car safely."
Figure 48 Employer Perceptions of Customer Parking Concerns
| | | | | | | |
| --- | --- | --- | --- | --- | --- | --- |
| | Strongly Agree | Agree | Neither Agree nor Disagree | Disagree | Strongly Disagree | Don't know |
| Customers can generally find parking fairly easily. | 0 | 5 | 8 | 8 | 11 | 0 |
| Customers frequently must walk a long distance from parking to our destination. | 5 | 9 | 10 | 8 | 1 | 0 |
| Customers often complain about parking in Charlottesville. | 18 | 8 | 2 | 3 | 2 | 0 |
| Most customers park in the public parking facilities rather than on-street. | 3 | 7 | 11 | 8 | 2 | 2 |
| The risk of crime in Charlottesville is a significant concern for my customers. | 8 | 9 | 5 | 9 | 1 | 1 |
| Ticketing is a major issue/frustration for my customers. | 6 | 9 | 8 | 8 | 1 | 0 |
When asked to rank the following parking factors in order of importance to customers, businesses selected both duration (the ability to stay as long as they needed) and cost as being most important (Figure 49). Interestingly, businesses thought that availability was the least important factor while the general public (their customers and workers) ranked availability as the single most important factor and duration an issue of lesser concern (after cost, ease of use, and congestion).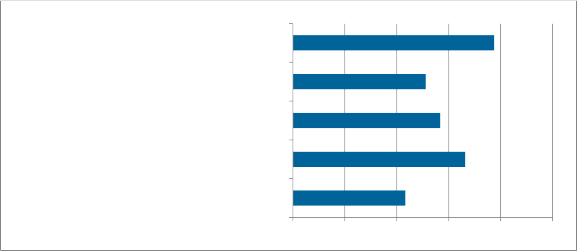 Figure 49 Critical Parking Factors for Customers
DURATION: Having the ability to stay as long as
they need or want
EASE OF USE: Parking is easy to find and use CONVENIENCE: Having a parking space nearby
COST: Having free or low cost parking
AVAILABILITY: being able to find a parking spot quickly
0.00
1.00
2.00
3.00
4.00
5.00
When asked for recommendations to improve customer parking downtown, business owners generally advocated increasing the supply of parking and reducing the cost of parking downtown. Responses in the "other" category include:
Longer duration street parking
Open garages 9 a.m. on Sunday for restaurants and shops
Stripe all street side parking so that drivers use the spaces efficiently Offer flat rate parking for patrons of events
Stop monthly parkers from using all the spaces on the lower floors
Provide parking "permits" or "passes" for identification of the vehicles of Saturday worshipers so they do not have to fear being ticketed while attending services
Evaluate the need the number of handicap space

Effective management is the best and most cost-effective way to optimize parking supply and can have the effect of increased parking availability and better access to downtown employment and destinations.
Parking is best managed pro-actively as a critical component of the City of Charlottesville downtown plan. Many cities are now adopting parking management elements in concert with marketing and development efforts. In the Downtown and University areas, as well as throughout the City of Charlottesville, the following alternatives are recommended for further exploration as components of an integrated parking management approach.
But parking management must be combined with overall transportation demand management – providing commuters, visitors and others with the information, incentives, and convenience necessary to utilize the abundant other resources the City of Charlottesville has to offer.
Promoting commute and travel alternatives will significantly relieve pressure on parking resources, better utilize other investments the city has made, support the objective of a vibrant walkable downtown, and improve Charlottesville as an attractive and sustainable place to live, work, play and learn.
Create a Department of Parking
Create a City Parking Department, or a Parking Division within an existing City department, to provide full-time management of the parking system. This should include oversight of the parking enforcement, performance evaluation, customer relations, dynamic rate management, and improved maintenance and modernization. While this requires additional staff costs and management of the initial set-up, the new functions would provide central oversight of the City parking system and facilities. In many cities, parking departments are self-funding through revenues from fees and penalties.
Adopt Demand-Responsive Pricing
In general, curbside spaces near to downtown destinations are preferred over parking in lots or garages. Not only are on-street spaces are often more proximate and convenient than off-street facilities, but oftentimes people feel safer parking at the curb rather than navigating a parking garage.
In simple terms, curbside spaces are typically more valuable than off street spaces - however the current pricing structure in Charlottesville does not reflect this market reality. Off-street parking generally requires payment while parking at the curb is free. The impact of this imbalance is
readily evident – competition for curbside parking spaces is fierce in some locations even when off-street facilities in the immediate vicinity have a substantial unused supply.
The city should restructure parking fees to better align parking price with parking demand and comparative value. The more valuable spaces – curbside spaces proximate to major destinations
OFFER VIABLE AND ATTRACTIVE COMMUTE AND ACCESS ALTERNATIVES
Establish a Transportation Demand Management Program and Transportation Management Association
A Transportation Management Association (TMA) or Transportation Management Organization (TMO) should be created in concert with the establishment of the Parking Department and be a program of that department. A TMA can help to disseminate information about alternative commuting options, run events and campaigns to encourage workers to try alterative commutes, and develop tailored programs for both employers and employees that meet their needs. The TMA can work closely with the Visitor's Bureau to enhance the visitor experience as well.
TMAs provide an economy of scale and more consistent, pervasive, and impactful message and program compared to TDM programs operated by individual employers or residential buildings. TMAs have demonstrated the ability to positively and substantially increase the awareness and use of alternative commuting options, increase worker satisfaction while decreasing household transportation costs, and enhance the appeal and competitiveness of cities and their downtowns.
The TMA could be funded through parking revenue funds and the required participation of new development projects. TMAs are also eligible for federal transportation funding (granted through the regional planning body) and work closely with area transit providers. In Charlottesville, the TMA could and should be a partnership between the City, University and transit provider and support both populations and their needs.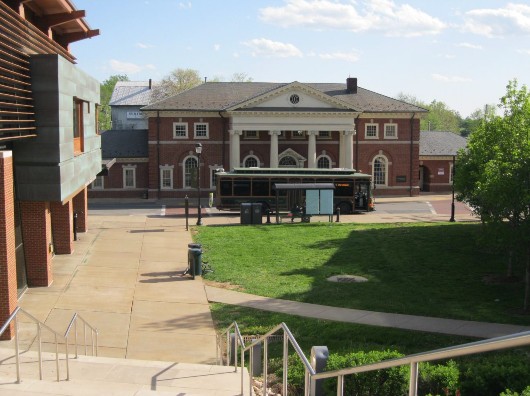 Enable expanded/additional mobility options
Remote Employee Parking
Remote parking for employees would use available parking spaces in areas of Downtown where demand is lower and parking spaces may be underutilized. The location of the remote parking would be tied into the existing trolley service or provided with a separate shuttle service to employment centers in downtown. This approach would reduce long-term parking by employees from the in-demand spaces closer to Downtown and would also provide employees with either free or low-cost all-day parking.
To implement this approach, the City of Charlottesville would need to survey the availability of a City-owned remote parking facility and the cost to provide low or reduced cost parking there.
Alternatively, the City could also work with a private parking lot operator to provide the parking spaces at reduced cost. This arrangement could be collectively managed through a BID or parking authority.
Provide Transit Benefits
Cities such as Boulder, CO and Ann Arbor, MI have implemented universal passes (also known as U-Pass or EcoPass) for their downtown and university communities. These passes are provided to all downtown workers and students regardless of whether or not they are regular transit users.
These passes eliminate the barrier to transit use as people do not need to determine the fee per ride or even the details of how to use the transit system. Pass holders simply present their pass and may take transit anywhere the system goes.
Although transit use is relatively low in Charlottesville, especially among downtown workers, such U-Pass programs can warm drivers up to transit use and eventually encourage a mode shift.
Passes are generally funded through a combination of funds including discounted transit fares, required participation by downtown employers, CMAQ resources, general revenue funds, parking proceeds, and student fees.




Increase Walking and Bicycling

The majority of employees in downtown businesses commute less than three miles to work, which could be accommodated by walking or bicycling. The City of Charlottesville is expanding the number of bicycling racks and working with local businesses to provide secure bike parking where feasible. The proposed pedestrian and bicycle master plan for the city will increase bicycling facilities and comfort and safety for more concerned riders.




Carpool Benefits

Finally, the city could consider establishing priority carpool parking spaces in the public lots. These would both be a benefit to employees who carpool into downtown by saving them time and a way to encourage more people to consider carpooling. These spaces would be pre-paid monthly spaces, but could be offered at half price for two person pools and free for three or more person pools.




MAINTAIN (AND MONITOR) CURRENT PARKING SUPPLY

Better management of existing on and off street parking resources will significantly reduce the parking pressures and better match users to the resource best suited to their needs. Strong promotion of TDM efforts and continued enhancement of alternative travel options will serve Charlottesville well in maintaining its reputation and charm as an attractive, livable and sustainable city. But demand for parking will remain. As a small and growing city in a relatively rural region, access by automobile will continue to be an important mode of access. Current parking levels should be maintained, but continuously monitored and evaluated.




Maintain existing parking requirements for new development.

With the elimination of the parking exempt zone, new developments will largely meet their own new parking demands; therefore future parking demand is not anticipated to outpace added supply. Similarly the current "in lieu" payment option should remain for those properties unable to provide parking on site or desiring to participate in a shared arrangement.




Strategically expand parking where opportunities exist.

Partner in parking replacement or enhancement.

The city is growing. As development occurs the city will see a temporary, and in some cases permanent, reduction in the number of public or employee parking spaces in the downtown. The city should partner with private owners to optimize opportunities to replace this parking supply and where prudent, enhance it.




Engage in shared parking arrangements.

As was observed in 2008, there are surplus off-street parking spaces downtown, however many of these empty spaces are not available to the general public. Shared parking arrangements to make use of existing underutilized spaces can help address unmet parking demand. Shared parking arrangements are not uncommon in Virginia and widely practiced in places such as Arlington County.




Participate in development.

As new developments occur downtown, the city may wish to partner with developments to integrate new public parking spaces into development projects to replace lost parking or sensitively augment supply and better distributing parking options throughout the downtown. The need for additional supply should be judiciously monitored and can only be correctly evaluated after effective parking and demand management programs have been implemented.




SPECIAL PROJECT AREA RECOMMENDATIONS

Albemarle and Charlottesville Circuit and General District Courts

Four courts operate at Charlottesville's Historic Court Square: the Albemarle County Circuit and General District Courts and the City of Charlottesville Circuit and General District Courts.

Generally speaking, there are three distinct user groups for the Courts - each with unique needs:

Jurors: The Circuit Courts use jurors for both criminal and civil matters, and annually summon 60-120 citizens for grand jury duty, which lasts at least six months.4 Jury calls occur on Tuesdays and present the greatest strain on parking in the immediate vicinity of the courthouse. Jurors may stay from less than four to more than eight hours in a day. Often they may not leave to move their vehicle or feed a meter.

Defendants and legal counsel: Like jurors, defendants and attorneys present more episodic demand patterns – coming downtown as needed to address Court concerns. These users may stay for shorter or longer durations, depending on the need and their visits may occur throughout the week.

Court staff: Court employees are downtown on a routine basis, most according to a fairly regular schedule. Court staff have the same general needs and desires as other downtown employees.
There are approximately 928 parking spaces in the zone encompassing the courthouse: 208 on- street parking stalls, 247 private off-street parking spaces, and 473 off-street parking stalls in the Market Street garage. On-street parking regulations are classified as two-hour limit (117 spaces), one-hour limit (17), unrestricted (10), and other restrictions (64).
On an average (non jury call) weekday, 9AM to 5PM, the average utilization rate for all parking in the are, including on-street and public and private off-street is 67%. On-street usage is highest during the morning hours (9AM – 12PM), averaging 78%, with demand tapering off during the afternoon period (56% utilization). Use of the Market Street averages 70% during the workday and peaks at 87% roughly around 1PM. Private spaces in the vicinity exhibit significant unused capacity.
Figure 55 Courthouse Parking Profile
Parking Availability near Albemarle/Charlottesville Courthouse

Classification

Parking Spaces

Weekday (9-5) Utilization Rate

On-street

208

66%

Private off-street

247

60%

Market Street garage

473

70%

Zone-wide

943

67%
Peak court days, however, have sizable and at times excessive demands on parking resources. The Market Street Garage commonly reaches, and occasionally exceeds, its practical capacity while
on-street spaces are generally full – particularly in the morning period.

4 The Virginia Circuit Court: http://www.courts.state.va.us/courts/circuit/circuitinfo.pdf
At present, jurors and others with business at the courts are generally directed to use the Market Street Garage. Users are provided with parking validation to offset any parking cost. Limited information and few incentives are provided to encourage and enable use of other parking resources or alternative means of access. The Courts rely exclusively on the public curbside and off street facilities and do not, at present, have any private or reserved parking arrangements.
To ensure reliable and efficient access to support and sustain Court activities, and mitigate the impact of Court-associated demands on the general downtown, a wider array of solutions must be applied. These solutions include better distributing parking demand among the range of resources in the downtown; incentives to use alternative modes of access by those for whom viable options exist; and securing additional parking options for Court use on peak days.
Parking Recommendations